If you live in Saint Paul, or you know someone who does, listen up. On September 13, the non-partisan primary will be held for the mayoral race in St. Paul, and I want you to consider casting your vote (or urging your St. Paulite friends to do the same) for Elizabeth Dickinson. She's been endorsed by the Green Party of Minnesota, but partisan politics don't mean a whole lot in this race (party affiliation doesn't even appear on the ballot). What's important is the fact that Dickinson is a brilliant woman who's in this race for the right reasons; primarily, she has the best interests of the citizens of St. Paul at heart, and isn't looking to use the mayor's office as a political steppingstone (no worries about her doing something drastic such as changing party affiliation mid-term... ahem Norm Coleman ahem Randy Kelly). I know this because I've met and talked to her -- she used to be a lobbyist for the Minnesota AIDS Project, and was also a guest speaker in one of my graduate English courses for her expertise on Emily Dickinson (she's actually a descendant of Emily's brother, I believe). Get this: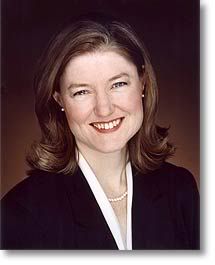 Elizabeth Dickinson is a playwright, an equity actor, a moderately successful screenwriter, and holds B.Ed. degrees in Drama and English, as well as an MA in Psychology, from Cambridge University in England. It goes without saying, then, that she values the arts. These days, we're lucky if our political representatives aren't outright opponents of the arts, much less patrons, much less artists themselves.

Some points cultivated from her vision for St. Paul which set her apart from Coleman and certainly Kelly. Dickinson values:
- Encouraging women to take leadership roles in government ("I intend to start a mentoring program for young women interested in public service").
- "Expediting and supporting the establishment of the Mexican Consulate to facilitate help for undocumented workers, including the issuance of official ID cards for the undocumented workers."
- Fair elections, achieved by "promoting Instant Runoff Voting (IRV), eliminating primaries, saving taxpayer dollars, and allowing citizens to vote their conscience without fear of sending someone antithetical to their views into office."
- Mass transit as a crucial aspect of city planning. "According to Transit for Livable Communities, the Twin Cities offer the fewest mass transit options of any U.S. city except Detroit." Dickinson's plan for expanding mass transit is more comprehensive and clear than any other candidate, including a focus on expanding and maintaining public bikeways.

This is just a sampling of issues that are important to me personally, as a citizen of St. Paul. Check out her website and see for yourself by attending one of her public appearances or a debate. Spread the word! (The last link connects to a .pdf file to read, print, and distribute).