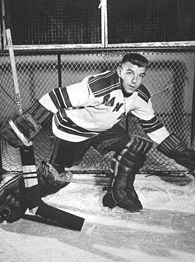 Lorne "Gump" Worsely passed away last week, and we assume went through St. Peter's five-hole. Gump was a true character and a throwback to "old time hockey." As a goalie, he won four Stanley Cups, two Vezina trophies, but may be best known as being the last goal tender in the NHL to not wear a mask.

I thought the Strib had a decent article on Monday.


Maniago towered over the 5-7 Worsley, who made up for his lack of size with his lack of conditioning. "We had a training camp in Winnipeg, and we started 'dry-land' training," Reid said. "We'd run up and down hills, run around the track, do firemen's carries. We were all told to bring running shoes and shorts.

"One day we're running on the track and I look over and there's Gump. He's got on black wingtip brogues, with knee-high black socks and a pair of shorts, smoking a cigarette, and walking.
No wonder I thought that I could play hockey.
You can read the entire article
here
. Unfortunatley, they don't have the pictures that were in the print edition. There was a great picture of Gump out cold after getting hit by puck.
RIP, Gumper.