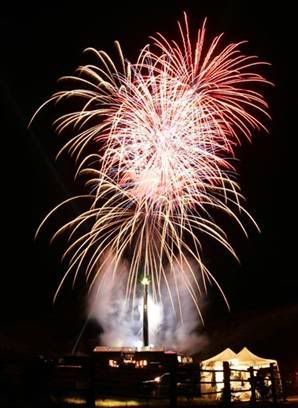 Fear and loathing from within a fireworks display? Ok, so some complain, but it still seems pretty effin' cool. Mr. Depp reportedly spent $2.5 mil on the affair.
Here's the description from IMDB (via Kyle).
Hunter S. Thompson Remembered in Explosive Memorial

The ashes of Hunter S. Thompson were blasted into the sky from a cannon in the late American journalist's Colorado estate on Saturday night, exactly six months after his suicide. The Fear And Loathing In Las Vegas author, 67, shot himself in the kitchen of his home Owl Farm in Woody Creek, near Aspen on February 20. In accordance with his wishes, his ashes were fired from a 150 foot tower, topped by the his 'gonzo' journalism symbol of a red fist with two thumbs. Celebrity friends, including Johnny Depp, Bill Murray, Sean Penn, Lyle Lovett and The Nitty Gritty Dirt Band joined Thompson's widow Anita and 250 others at the private memorial on Saturday, and watched his ashes joined fireworks in the sky. His wife Anita lamented, "He loved explosions."